Raft Boys Splash Another £322
In August 2012 two young rock climbers Jimmy Hyland and Jamie Fisher both from Buxton were climbing a route called The Prow on the Roaches near Leek when they had an accident. Both fell to the bottom of the climb and Jimmy sustained facial and wrist injuries whilst Jamie broke his ankle.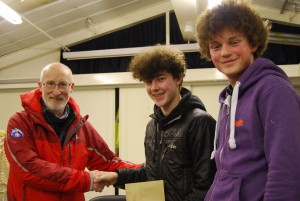 Buxton Mountain Rescue Team was called to the incident and after treatment the boys were evacuated by stretcher, Jimmy to the Midlands Air Ambulance and Jamie to a land ambulance.  After treatment in hospital both have made a full recovery and wanted to show their appreciation to the mountain rescue volunteers who helped them. They decided to raise money by getting sponsored to take part in the Matlock to Cromford Raft Race on Boxing Day raising an amazing £2,068.
Not satisfied with just one race they decided to enter again in the 2013 Boxing Day Raft Race and raised another £322 in sponsorship.
At a routine team training event at the Dove Holes Base in March the lads presented Team Chairman, Richard Doran with the cash.  Richard gave the boys a heartfelt "Thank you" on behalf of the team and members responded with spontaneous applause.   Richard said, "It is great that both boys made a very successful recovery from their ordeal in 2012 and the fact they have gone on to raise so much money for the team in way of thanks is a remarkable testament to their character."
The money will be added to the slowly growing appeal fund to raise £50,000 for Fifty Years Service and the replacement of an aging team vehicle.