HMS Sinker
Six Santas gamely boarded a home-made raft to take part in a charity raft race by way of saying thank you to Buxton Mountain Rescue for helping them earlier in the year.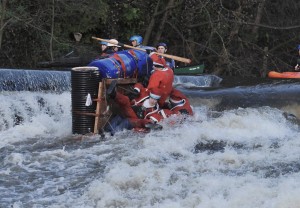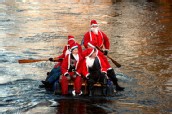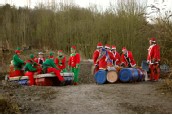 Despite getting predictably cold and wet, Jimmy, Jamie, & friends survived their exploit along a 4 mile stretch of the river Derwent on Boxing Day.
Rob Hyland, father and responsbile adult in the red-clad crew said:
Overall a very good day… and worthwhile – it looks like we have raised in excess of £1500 for the team. Their JustGiving page is still open if you wish to top up with a contribution of your own. No need to get wet, or anything.
The Matlock Raft Race is an annual festive event. It starts from Matlock and ends at Cromford Meadows. It is organised by the Derbyshire Association of Sub-Aqua Clubs, and 2012 was its 50th anniversary. Plenty of images can be seen on the website of the Derby Telegraph and also on this photographer's website which captures the weir dunkings exceedingly well.
Tremendous effort by everyone involved. Our sincere thanks.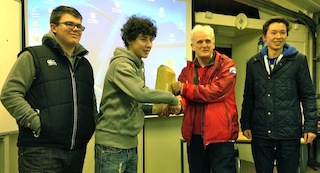 Photo credits: Derby Telegraph for the event, Kerry Clarke for visit & presentation