Very well dressed, Buxworth
For the second year in a row, Buxworth Wells Dressing have made a donation to Buxton Mountain Rescue Team.
Thanks to the generosity of visitors in 2011, we have benefited from a donation of £200. The eye-catching design was on display at the Navigation Inn, which is a busy place now that the canal basin is restored and bustling with recreational barges and people walking the tow path.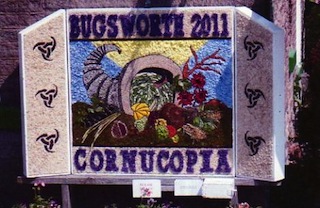 If you'd like to see how different and creative the designs are from year to year, please check out the 2010 article.
We are very grateful indeed to the organisers for thinking of, and supporting us.