It's personal – injured climber survives to say thanks
Buxton and Edale Mountain Rescue Teams were surprised but very pleased to hear from Tony Brock, a casualty they had attended a few months ago, see call-out in April 2010. With such a severe head injury it was not thought that he would survive. In the event that he did, it was assumed that he would have significant brain damage.
Tony, from Manchester, was climbing with a friend at Birchens Edge. Although he was wearing a helmet, when he fell he sustained a severe head injury. The first rescuers on scene found him drifting in and out of consciousness, with a compromised airway, which also led to some fitting. Action was taken to stablise him, followed by a swift evacuation on stretcher to a waiting air ambulance. The ambulance flew him to a specialist neurological centre in Nottingham.
Remarkably, after almost a month of being unconscious in hospital, including surgery to remove part of his scull to let his injured brain swell, Tony is now recovering well.
Informed of how both Edale and Buxton Mountain Rescue Teams were involved, Tony wanted to visit and thank team members individually for their part in his rescue.  Members of both teams met Tony at Edale base, and were delighted to see him walking unaided, and hear him talk lucidly about his recovery. Its not always one feels that ones input contributed to a life-saving effort, but this case was one such.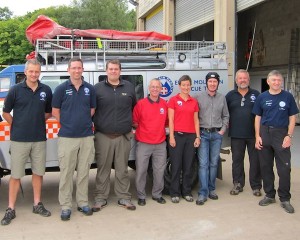 Yolanda Blane, one of Buxton's newest team members who attended the call-out, said "It was the first time I had been out to a major incident and the first time I'd worked with Edale so it was a bit daunting and a big learning curve for me. It was difficult being involved in such a serious incident and to think that survival chances were slim, but we had to consol ourselves that we did what we could in the circumstances. We heard some reports on Tony's condition a week or so later and it looked very bleak indeed. I was amazed to hear that he had pulled through and I wouldn't have missed meeting him for the world. I didn't expect him to be as well as he was and it was great to see. It made me feel very proud of the work our teams do."
Tony is now waiting to have a titanium plate fitted, to replace the  piece of skull that was removed.  We all hope he continues his  miraculous recovery and wish him the very best for the future.
See also, corresponding article on Edale's team site.
Photo: some members of the Edale/Buxton snatch squad with Tony Brock (in scull-cap)