Winsome Dogs
Back in April this year, a number of friends who walk together talked about doing some fund-raising for their local Mountain Rescue team to help celebrate its 50th anniversary. The bare bones of a fun dog show took shape.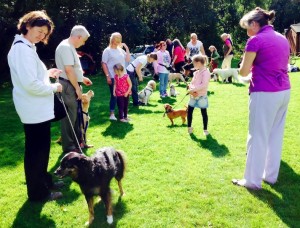 What with the added attractions of a cake stall, a book sale, a raffle, and a bottle game it proved a popular event at the park in Oakamore, Staffs. The organiser, Karen Landon of Churnet Valley Dog Training, advertised with such gusto that around 70 dogs with their owners joined in with the competitions and classes on offer.
Karen said: "As dog owners that makes us walkers too. Many of us walk in remote places and it's nice to know that in the event of an accident or illness while out walking there is help that be called upon. That's why I think that Mountain Rescue is a great charity to support."
Karen acknowledges the tremendous support of many people for its successful outcome: from participants, to judges, to bakers, to stall keepers and donators of prizes. Not forgetting Oscar Pet Food who kindly sponsored the show. At the final reckoning, she announced 'we made £400 for Buxton Mountain Rescue – and are looking forward to doing it again next year".
The Team sends a hearty thank you to one and all. And, we might add, what a champion you are, Karen!