Willow's scary moment in Grinlow Woods
Willow, a  nine month old King Charles Spaniel was out for a walk on Monday afternoon in Grindow woods when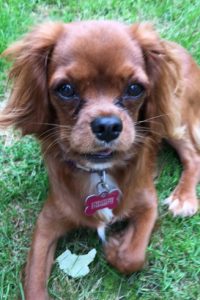 her eye was caught by a local rabbit.
In her eagerness to play with her new friend she found herself at the top of a sheer drop overlooking the Grindow Caravan Park.  Despite the efforts of her family to encourage Willow away from the edge but were not able to reach her and thought they may be putting themselves in danger.
A call to Buxton Mountain Rescue base at Dove Holes was well timed as some team members were there undertaking equipment maintenance.  They and a few local members were soon on their way to assist taking taking with them the team's own version of a doggy bag!  In a stroke of good fortune, another local walker in the area managed to coax Willow back to safety and the team were not required to undertake a rescue.
Team Leader, Neil Carruthers commented, "We were very happy to attend as we know how much a dog like Willow is a part of the family.  In this case it was lucky that we had members at our base which is not normally staffed.  We are just pleased that this call had a happy ending"
.
Mountain Rescue teams are made up completely of volunteers and the rescue bases are therefore not regularly staffed.  The quickest and sure way to call for mountain rescue assistance is via the police using the 999 system or, perhaps in a non-urgent animal incident such as this, dialing 101 .
Photo credit:  Willow's family.   Willow safely back home.