Twelve Years of Service and on to a new life.
After twelve years of faithful service the team's old Control Vehicle has been sold to Severn Area Rescue Association where it will start a new life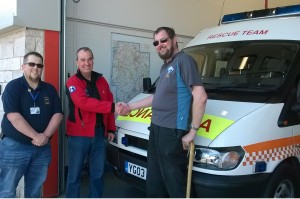 with the water rescue unit.
The Ford Transit started life with Buxton MRT in 2003 when, following an appeal, the vehicle was donated by Macro Motor Services.  It served eight years as a minibus based at Dove Holes with a primary role of transporting team members from the rendezvous point to the nearest access gate on to the moors.  In 2011 it took on a new role when it was converted in to a mobile control room with many extras and was stationed at the newly built Buxton Fire Station.
The use of the mobile control room has been such a success that the team decided to renew it this year.  The new control vehicle should arrive in May and will have 4 x 4 capability for winter conditions and will be able to accommodate a casualty lying on a stretcher.
Roger Bennett, Operations Secretary, waved goodbye to the old vehicle on Saturday just a couple of hours after the vehicle returned from her last call-out at Grin Low Woods.  Her new life will start immediately at Beachley Lifeboat Station.
Photo credit:  BMRT.  Roger (centre) hands the keys to members of Severn Area Rescue Association.