Time called on top box
After 24 years of pulling pints for climbers coming off the R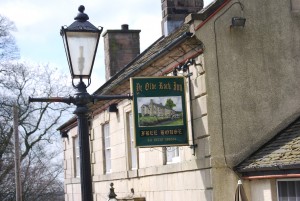 oaches and Hen Cloud, John and Hilary Burrows of the Rock Inn at Upper Hulme have called their final "Time gentlemen, please."  
John and Hilary pulled their last pint on Tuesday night and said goodbye to The Rock as they seek a quiet retirement in a small village not too far away.   The Rock has been a favourite watering hole for thousands of climbers and hill walkers looking for refreshment after a long day on and around the Roaches. 
John and Hilary have long been keen supporters of the rescue team and have hosted a collection box which in the last five years has netted over £2,500 for team funds.  It was an emotional moment when John handed over the last of the money he had "encouraged" visitors t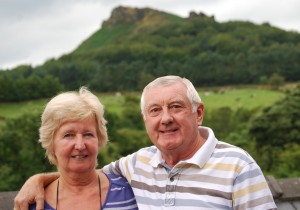 o drop in the box.  Not satisfied with just the collection box money, John and Hilary also made a significant personal donation as a farewell gift for the team.
The living quarters of the pub look directly onto Hen Cloud where the couple say they have often watched the team working with helicopters to rescue another fallen climber. It was knowing that the money was going to something rather special that made rattling the box all the more impor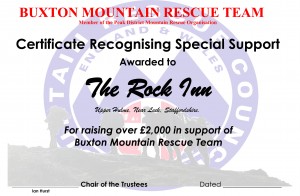 tant said John.
Buxton Mountain Rescue team is extremely grateful for the enormous support it has had from The Rock over so many years and we wish Hillary and John a long and very happy retirement.
The Rock opens again on Wednesday under new management which we hope will carry on the traditions of good food, best beer and Top Box.
Photos:  The Rock Inn a favourite call for climbers and ramblers. Hilary and John with their view of Hen Cloud.  Certificate of Appreciation for Top Box 2008