The theft of the chocolate bunny ears
Over 50 patrons of the Rose and Crown pub were recently set a challenge to investigate the mysterious loss of hearing for a large chocolate bunny. It was last seen fully intact on the bar of the pub.
Thanks to the generosity of customers at the murder mystery evening, a terrific £250 was collected for the Buxton MR team. In addition, a fantastic separate donation of £100  was made by a local man who unfortunately couldn't make the evening.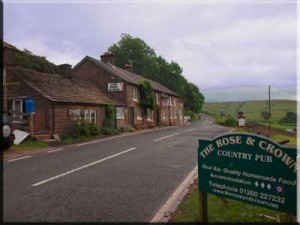 The Rose and Crown has been open under the new management of Ken Alexander and his partner Karen for 10 months, supported by cook Cliff Alger. They will host a second murder mystery night with a fancy dress theme on October 22nd. Tickets can be obtained at £5 each from October 1st. A further evening to support the Buxton Mountain Rescue Team is also planned for the New Year celebrations. What with a regular 'open mike' folk night on the first Saturday of each month, it is clear that this apparently quiet corner of the A54 near Widlboarclough does not wish to be by-passed and forgotten. For more information about their activities, check their website www.theroseandcrown.net
Buxton Mountain Rescue Team would like to say a really big thank you for such generosity and support for our activities especially  as in 2011 we are adding a new response vehicle to support the establishment of a new outstation in Buxton to supplement our main base in Dove Holes.