Thank You Buxton Folk!
Last Saturday was a grey, drizzly day in Buxton but despite the miserable weather the good people of the town were in a generous mood.
A total of £450 was raised in a Flag Day collection on Spring Gardens.  That's another very valuable contribution towards keeping the team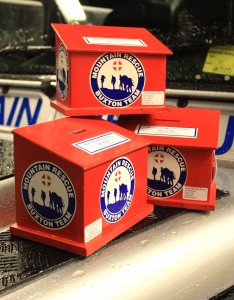 operational.  This year Buxton Mountain Rescue Team needs to raise its usual £30,000 annual running costs plus an extra £50,000 to replace an aging vehicle.
Thanks to the generosity of many local people the team is well on its way to achieving the targets but any extra help would be really appreciated.   As volunteers, team administration cost are kept really low and there are no Chief Executives, Fundraising Managers or any other wages to pay whatsoever.   Every penny donated goes directly towards keeping the team well equipped and trained.  We can only do it with your help.
Please push the red "Donate" button if you can offer a small gift.
Many, many thanks to everyone who has contributed.