Sheila Heywood, 1924-2009
It is with great sadness that the team has learnt of the death of Sheila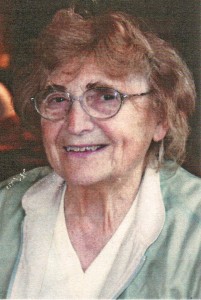 Heywood on 3rd August 2009, aged 84.
Sheila was a long time supporter of the team and generously gave time and financial assistance over the past twenty years.  Her first contact with the rescue team was in October 1989 when she became a surprise guest at Buxton Mountain Rescue Team's annual dinner dance.  None of the members knew who she was until she stood up after the rest of after dinner speeches had concluded.   Sheila then presented a cheque for £20,000 on behalf of the Nationwide Building Society. 
It was a complete surprise to all the gathered members and came at a time when the team was appealing for funds to build its new base at Dove Holes. From that date, Sheila maintained a close friendship with many of the team and continued to personally donate money and help with other fundraising on a regular basis.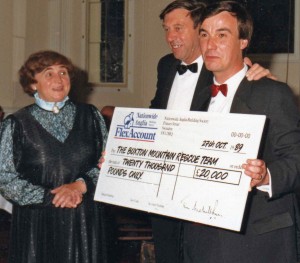 Whilst in the last few months of her life Shiela had started to suffer from dementia she still recognised her visitors at the retirement home and recalled that special dinner dance.  Sheila died peacefully at The Hawthorns in Buxton.
The rescue team owes a great deal to Sheila for her negotiations with Nationwide Building Society to secure that major donation which funded the birth of the modern team. The team sends its most sincere condolences to Sheila's two daughters living in Buxton, and to the rest of her family.
Photos: 1. Sheila Heywood  18.12.1924 – 03.08.2009    2. A bemused Roger Bennett, then newly appointed Team Leader, with retiring T.L. Ted Burton, receive a suprise cheque form Sheila in 1989.