Ready for the Bank Holiday
The myriad of skills necessary to part of a mountain rescue team means that Buxton Mountain Rescue Team trains every Thursday evening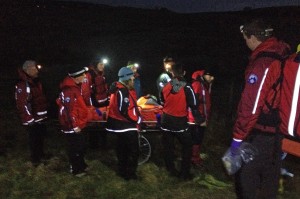 throughout the year.   Whether you've been in the team just four days of forty years, keeping up to speed with new developments demands that every member attends regular training.
Much of the training requires a classroom environment and is a bit like being back at school.  However, having learnt skills in class then they need to put in practice in a realistic situation.  Time on a Thursday evening is limited so many of the outdoor practice sessions take place not too far from the road to avoid the long walk in.  Finding different locations without disturbing nesting birds, lambs or rare vegetation is quite a challenge but the team always secures permission before entering on to any land.  Also torch lights flashing around in remote locations can upset the locals so each new training event takes meticulous planning.
Exercises are normally formatted to follow on from recent classroom sessions but on the run up to a potentially busy Bank Holiday weekend the Team Training Officer decided that a quick refresher in dealing with a known location ankle injury would be just the ticket.  The exercise call-out at 7.00pm set the radio-pagers tweeting their call and the first team members were arriving at the chosen rendezvous, The Winking Man, within a few minutes.
A quick briefing from the Team Leader and troops and equipment are dispatched to the scene.  It's a well practiced format but working in the dark always throws up a few difficulties.   Within an hour the mock casualty has been found and treated by eager first-aiders before the stretcher evacuation began.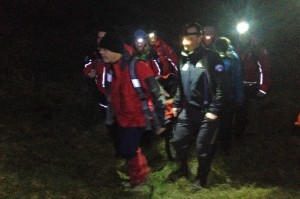 The advantages of rendezvousing on a pub car-park are obvious so it was a very short debrief and into the bar.
Ten out of ten to our Training Officer for getting this exercise right because in just forty-eight hours the exact scenario would be re-enacted for real in Hardens Clough, Edale.  see call-out 23.
Photo credit:  BMRT.   Team working together in the darkness on a Staffordshire moor.