Pancakes !
Dove Holes Shrove Tuesday Pancake Party!   An unusual way to raise funds but never the less a most successful one.  "Churches Together" is a an amalgamation of St Pauls Church, Dove Holes and Dove Holes Methodist Church and each Shrove Tuesday they work together to hold a Pancake Party.  Money raised at the event is given to a local charity and this year they chose to support Buxton Mountain Rescue Team's £50,000 for Fifty Years Service Appeal.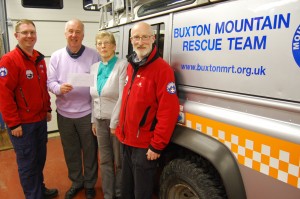 £100 was raised and Mary Washbrook from St Pauls Church and Ken Gibson of Dove Holes Methodists dropped in on a rescue team training night to present the donation.  On hand to receive the funds were Team Chairman, Richard Doran and Vice Chairman, Dr Mat Stagg.  Mat said, "This is a really valued donation from local groups and we sincerely appreciate the time and work that went into raising the money for us.  We extend a great big "Thank You" to all who made the gift possible."
This is another fine example of the support the local community offer Buxton Mountain Rescue Team which simply could not continue its work without such incredible help.  The £100 will go into the appeal coffers which we hope will replace an operational response vehicle at the end of the year.
Vice Chair, Dr Mat Stagg (left) welcomes Ken Gibson and Mary Washbrook.  Team Chair, Richard Doran (right)