On parade
Some boot polish was in order last week when Buxton Mountain Rescue called in at the local Army Cadet Force to give a talk. Team member, Jon Kidd, along with trainees, Rob Stordy, and Alan Ball (who also happens to be a Sergeant Major Instructor in the Army Cadet Force) visited Chapel-en-le-Frith Detachment, A Company, Derbyshire Cadet Battalion, The Mercian Regiment.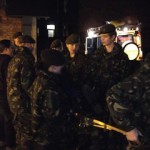 The team representatives showed the cadets one of the team response vehicles, with its operational equipment. The cadets then took part in a stretcher carry with their Detachment Commander, Sergeant Adrian Dobb, as the casualty. Much to the delight of the bystanders!
Jon Kidd, who previously served 10 years as an instructor in the ACF said "It was a real privilege to be invited back to my old unit. It is fantastic to see such a dedicated and enthusiastic group of young people taking a real interest and appreciating the work that Buxton Mountain Rescue Team do. I look forward to maintaining this vital link with the ACF in the future and the opportunities that this may bring to both organisations. On behalf of Buxton Mountain Rescue Team I would like to thank the instructors and cadets at Chapel-en-le-Frith Detachment for welcoming us".
Jon was also given the honour in dismissing the parade at the end of the night just for old times sake!