New Team Start Training
Being a member of a mountain rescue team is a very rewarding but challenging task requiring dedication and a lot of commitment.  Buxton Mountain Rescue Team is always looking for new members to boost its operation strength or who can help with a myriad of support roles.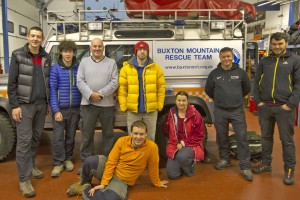 Taking on that challenge is a group of new members who have joined over the last month or so and are now embarking on the basic training programme.  They already have the skills required for entry which are within the capability of most physically fit regular walkers but now have to learn what turns a walker into a rescuer.  They will meet every Thursday night to train with the full team to learn the many skills necessary to enable the team to respond  to any task set by the police or ambulance services when the team is called out.   It will take each new member about three or four months to qualify for entry on to the call-out list and then a further nine months before being accepted as a Full Operational Member.  Only then will they be issued with the converted red jacket which signifies that they belong to the 3,000 strong membership of the 45 rescue teams which make up the national body of Mountain Rescue England and Wales.
Do you have what it takes to join mountain rescue?  To find out follow the links on the home page.