MPs' support for High Peak rescue teams
When three local Members of Parliament got lost on Kinder in J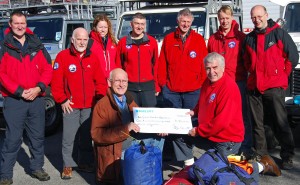 uly, the four mountain rescue teams in the High Peak area were called out. 
The exercise was all about raising awareness in Westminster about the work that volunteer mountain rescue teams do.  High Peak MP, Tom Levitt, with two of his neighbouring colleagues, Charlotte Atkins MP and Angela Smith MP, were game to volunteer for the multi-team search exercise.  Whilst the exercise provided practical search management experience for t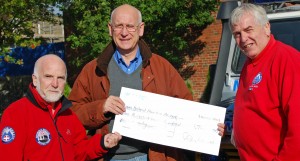 he four teams the real purpose was to draw attention to the lack of support from central government.  Tom Levitt has been leading a campaign for greater recognition of mountain rescue and has been promoting the call for a single cabinet minister to bear responsibility for the service.  The campaign was also to draw attention to the amount of VAT that the teams have pay in order to remain operational.  All funding for mountain rescue comes from charitable donations and it seems unfair the the government creams off 15% in VAT.
However, the teams couldn't complain on Saturday when Tom presented a cheque for £1,700 to be divided between the four teams.   The presentation took place at Buxton's base at Dove Hole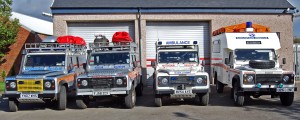 s when Tom Levitt handed the cheque to our Chairman, Ian Hurst, who had organised the exercise in July.
The teams wish to thank the three local MPs for their support of the VAT cause, and for raising such a generous sum.
 
Photos:  1. Representatives from Glossop, Kinder, Edale and Buxton MRTs look on as Tom Levitt presents the cheque.  2. Ian Hurst (Chairman) and Malc Needham (Deputy Leader) receive the cheque on behalf of Buxton Team.  3. The operational vehicles of the the four High Peak rescue teams involved.