Money from the Well!
The Buxton Market Place Well has turned into a Wishing Well for the Rescue Team!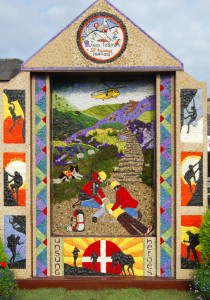 In July this year all the wells around Buxton were all dressed with magnificent floral displays created with wonderful skill and dedication by a team of volunteers organised by The Buxton Wells Dressing Committee.  2014 being the 50th Anniversary of the team, the Market Place Well was dedicated to Buxton Mountain Rescue Team and a fantastic tableau was created displaying a rescue on Kinder Scout.
Not only do the Wells Dressing Committee ensure that an ancient tradition is maintained they also collect donations at each well and use the money to help local charities.  This year, the rescue team's wish has come true with a terrific donation of £200 from the committee towards the New Vehicle Appeal.  This was a totally unexpected donation and the generosity is really appreciated.
The team sends another huge "Thank You" to the Wells Dressing people and all those who gave contributions making the donation possible.