Lands End to John O'Groats
You just can't get away from bikes this year!
Buxton team member Miles Haslam, (now known as 850 miles Haslam),  has completed a sponsored cycle ride from Lands End to John O'Groats to raise £1,560 for two different charities.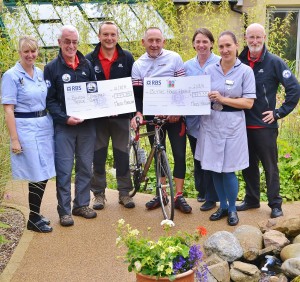 He completed the mini adventure as a solo and totally unsupported ride in just ten days.
Miles wanted to raise money for two charities close to his heart.  Miles, said, "Mountain rescue does a great job and relies totally on charity so half the money will go to the Buxton Team.  I've also been inspired to raise funds  for Blythe House Hospice by the experiences of a friend Alison Lea. She was supported by Blythe House through her recovery from treatment for breast cancer and she was impressed with the services they provided."
Buxton MRT says, "Thank You Miles.  Keep rubbing in the cream!"
The money is a very welcome contribution to the growing  50th Anniversary Appeal raising money for a replacement Incident Control Vehicle.
Photo:  Miles presents the cheques to nurses from Blythe House Hospice and members of Buxton MRT.