Jerry Rawson
It will be with great sadness that members of Buxton M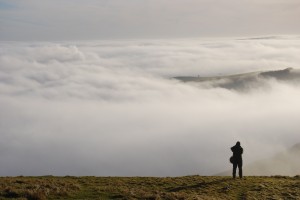 ountain Rescue Team will attend to pay their last respects at the funeral of Gerald Rawson on Friday 21st August.
Now best known as Jerry Rawson, his many stunning photographs and articles have appeared in a plethora of mountain magazines and outdoor guides in recent years.  A leading mountain author in his own right, his pictorial books will remain a lasting tribute to a man who was totally at one in the hills and mountains of the UK. 
Jerry had played a significant role in the development of the Buxton Rescue Team during its formative days of the 1970s and 80s.  An accomplished rock climber, he was one of a small group that arguably set in place many of the good practices and standards for crag work that the team still uses today.   He was a natural teacher and became the team's Deputy Leader and Training Officer, a post he held for many years, passing on his skills to other team members and formatting many of the operational fundamentals. 
Jerry was a doctor of chemistry but a quiet and unassuming man who rarely used his title Dr except when writing letters begging equipment for the team.  When he retired from lecturering at High Peak College he was able to follow his two great passions, mountaineering and photography.  Combining these he quickly became a renowned outdoor author with many books in his own name and with many of his outstanding pictures accompaning articles by other authors.
He will leave a lasting legacy in the foundations of the modern rescue team and also in his published work.   An active and influential operational member for over twenty years, gone but never forgotten.
All the team members, past and present, send their most sincere condolences to his wife and family.