Jacob's Ladder – now in a bottle!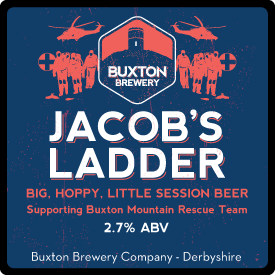 You won't find too many adverts on this web page as we hesitate to recommend any commercial products or use the name of mountain rescue to promote any businesses.   However, there is always an exception and when someone creates a product to raise money for the team we give it our whole-hearted endorsement.
Buxton Brewery Company, a micro brewery just over the road from our auxiliary base at Buxton Fire Station, has created a new brew especially  to support the rescue team.   Available in cask and bottles from The Old Hall Hotel, the beer will soon be available throughout the town.  At 2.7% ABV it's a lower alcohol content than the average beer and therefore attracts less tax.  Every glass slurped will help the team as Buxton Brewery will donate the tax saved to the rescue team.
So "Cheers" to Buxton Brewery and bottoms up!
Incidentally, it's not the first beer to be brewed for the rescue team as a different brewery once helped by producing "Bog Trotter".  Unfortunately it lived up to its name but I am assured Jacob's Ladder is a fine beer and well worth seeking out.
Remember, drink responsibly – don't spill any.