Incident Control Vehicle For Sale.
One Careful Owner
FEBRUARY 10th. – Latest:  Offers to purchase the old vehicle MUST be received on headed notepaper by Wednesday 11th March.   Email: bennett8888@btinternet.com for full specification and further information on how to make an offer.
Plans for the team's new Control Vehicle are well advanced and, with a last concentrated push for funding, the vehicle should be commissioned by Spring 2015.  To help cover the cost Buxton Mountain Rescue Team is offering for sale its current Mobile Control / Response Vehicle, preferably to a deserving mountain, cave or A.L.S.A.R team or any voluntary organisation with similar aims.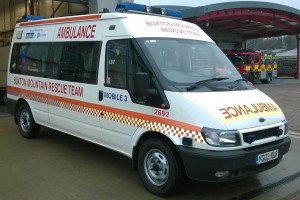 The Ford Transit vehicle was donated to the team in April 2003 and served as a minibus for several years. It was then converted into a mobile operations control room in 2010.
The vehicle is offered for sale with many extras on board including three Icom radios, a Webasto space heater and a Transvend water boiler. Internal and external scene lighting is fitted all round with a twin battery and split charge system to allow for on base stand-by charging.   It can carry eight people and has a full blue light package. There is plenty of room for rescue kit secured in a rear cage and a stretcher can be carried internally.
There are currently 27,500 miles on the clock with a full service history maintained by Derbyshire County Council. The engine is a 2,400cc diesel with a registered gross vehicle weight of 3,500 kG and therefore drivable on a standard driving licence.
The vehicle will become available in March / April 2015 when Buxton MRT will replace it with a similar vehicle but with 4 x 4 capability.
The charity trustees are not permitted to give the vehicle away but have agreed to accept a reasonable offer which reflects the extras fitted to the vehicle from any community spirited voluntary organisation.  Private offers will not be accepted.
For further information please email; enquiries@buxtonmrt.org.uk
Control room.                                                                                    Equipment cage.