High Sheriff on Boundary Patrol
The High Sheriff of Derbyshire, David Coleman Q.P.M. D.L., has set himself the challenge of walking around the complete boundary of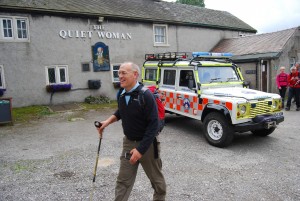 the County.  That's a total distance of nearly 250 miles over some very rough country with lots of ups and downs.  The walk is intended to raise money for two charities; The High Sheriff's Fund, which provides grants to organisations engaging in young people to divert them from crime and, The Peak District Mountain Rescue Organisation.
The P.D.M.R.O. is fifty years old this year and David is now its President.  He hopes the money raised will help buy new equipment and training for use by all the seven member teams.
The whole project will take fifteen walking days spread over August and September.  On each stage David will be accompanied by members of the local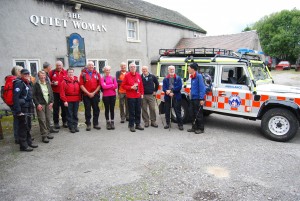 Peak District Mountain Rescue Team to guide the way and provide support.
On Wednesday the route passed through Kinder MRT's area and onn Thursday the ninth stage of the walk passed through the Buxton MRT's area where Derbyshire borders the counties of Cheshire and Staffordshire.  The day started at Whaley Bridge and finished in Earl Sterndale.  Buxton Team members Kerry Clarke, Joe Rees and Jane Walker-Cull, together with four Kinder team members and other supporters, walked the fifteen mile route with the Sheriff whilst Vehicles for both rescue teams provided support.
Photos:   Top:  High Seriff, David Coleman, arriving in Earl Sterndale.  Lower:  The full walking group outside the Quiet Woman.