HF Holidays support Mountain Rescue
Buxton Mountain Rescue Team is one of many teams in the country to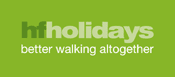 receive a £100 donation from HF Holidays.  As outdoor holiday specialists the company appreciates the importance of mountain rescue nationally and also appreciates the fundraising needs of individual teams.  A £100 donation has been made to all teams in the areas where HF Holiday groups walk.
HF Holidays is the UK's largest specialist in walking and leisure activity holiday company. Their guided walking holidays are for all levels and abilities. It also does independent trails throughout the UK, Europe and further afield. Leisure activity holidays feature over 200 interests such as painting, dancing or photograph and include cycling and outdoor adventure holidays.
In Britain, HF Holidays owns and operates from 17 country houses spread across all regions. HF Holidays is also a National Trust's Activity Holidays Collection Partner, is a leading member of the Outdoor Industries Association, affiliate member of the Ramblers Association and a business supporter of the Countryside Management Association, John Muir Trust and British Mountaineering Council.