Have you ever seen a Trout Run?
Macclesfield Harriers and & Athletic Clubs host a 9.5 K fell race as part of the Wincle Village Fete and Buxton M.R.T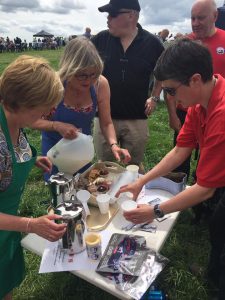 . was invited along to join in the fun.
The small village of Wincle on the Cheshire / Staffordshire border always enjoys a good turn out on fete day and this year the weather was kind to all who attended.   Team members were on hand to explain just what mountain rescue is all about and how to make contact should you ever need assistance on the hills.   Above all, members were able to demonstrate their cake eating skills for which we regularly train.
Many thanks to the organisers for the invitation and we hope to see you again next year.
Photo credit:  BMRT.   Forget the fell race, where's the teapot?