Forty Years a member and still at the sharp end.
Peter Farrer, of Chapel en le Frith, has been celebrating forty years continuous years as an operational member of the team.   Joining the rescue team with two friends in 1974 Peter is the only one of the trio still an active member.  Peter has always been a keen hill going member but also served on the management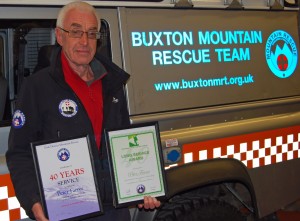 committee of Buxton Mountain Rescue Team for twenty-two years as Honorary Treasurer and after a short break returned two years ago as Fundraising Manager, a post he still holds.  Not content with service to Buxton MRT, Peter was also Honorary Treasuer to the regional body, The Peak District Mountain Rescue Organisation, for eight years.
Peter said, "It has been a privilege to be a member of Buxton Mountain Rescue Team and to work with so many dedicated people.
The Team over the years has always moved forward and developed the service it provides through it's hardworking members."
Peter is now the longest serving Fully Operational team member still responding to call-outs and climbing the hills.  Last Thursday evening Peter was presented with two certificates marking his forty years of dedicated service.  Buxton MRT Chairman, Richard Doran, presented Peter with a certificate from The P.D.M.R.O. and a certificate from the national body, Mountain Rescue England and Wales.