F.I.T. runner take a box.
F.I.T., otherwise known as Friends In Training, is a Stoke based running club whose members encourage each other to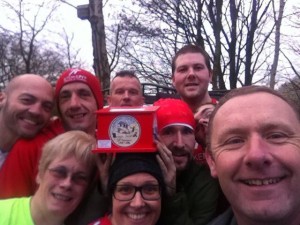 achieve their own personal running goals.  Individual targets vary from being able to run just a mile to being able to complete a 100 mile race.   The club's members like to get out and about all over the area and can be found training all around Buxton and The Roaches as well as nearer to home.
Club Chairman, Frank Murphy, admires the work of mountain rescue and asked for a collection box so to encourage members to make a donation after each event.  Team member, Daren Hunt, was most willing to oblige and delivered a collection box at the week.
Many thanks to all the members of F. I. T. and we look forward to your future support.
Photo:  F I T members with their new collection box and the scary image of the team's own compulsive selfy expert, Daren Hunt (far right).