Eye in the Sky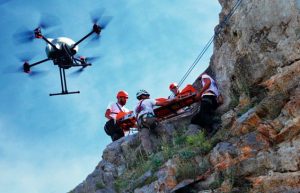 Plans are in the pipeline for an unmanned aerial device (UAV) or "drone" to join the Team. On an exercise last year, a recreational drone pilot demonstrated just how useful this new technology will be in searching vast areas of remote moorland which would otherwise take many volunteers many hours to cover.  A drone can search all terrain quickly and efficiently at a fraction of the cost of a helicopter.
To get a drone operational the Team needs to raise £6,000 – in addition to our normal running costs.  The campaign was launched before Christmas in Pure Buxton magazine and currently stands at over £1,200 thanks to a number of generous donors who have given anything from £5 to several hundred pounds.  The cost of the project includes not only the purchase of the drone itself but also training and accreditation by the Civil Aviation Authority.
You can donate by TEXT – "BMRT £10" to 70070, amend the amount as appropriate.
Or visit:
https://mydonate.bt.com/fundraisers/buxtonmountainrescuedroneteam1
Or click in Support US/Donate for details of how to donate by MyDonate or Paypal, (and add Gift Aid,) cheque or bank transfer.
This new technology will save lives, particularly where time is critical and we are keen to get the project off the ground as soon as possible.  Any donation, however small, will help us to help those who need help.