Derbyshire Police Chief Awards Commendation
The mountain rescue teams of the Peak District have been honoured with a Commendation from Derbyshire Constabulary's Chief Constable, Mick Creedon.
Representatives of the seven teams that make up the Peak District Mountain Rescue Organisation (PDMRO) were invited as the guests of Mr. Creedon to the Celebrating Achievement Awards Ceremony, held at Butterley Hall police headquarters in Ripley. An unannounced award was presented to the teams at the end of the ceremony in recognition of their services to the community over 50 years of providing search and rescue services to the Peak District and beyond.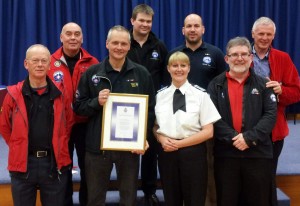 The seven teams, Buxton, Derby, Edale, Glossop, Kinder, Oldham and Woodhead, are this year collectively celebrating the 50th anniversary of the formation of the PDMRO. Throughout the organisation's history, all mountain rescue team members have remained unpaid volunteers, on call 24 hours a day, 365 days a year, responding to calls from the police and ambulance services around the Peak District and wider afield when required.
Ian Bunting, team leader of Edale MRT was invited to talk to the assembled police officers and civilian staff about the history and work of mountain rescue. He said: "In our early days, there would perhaps be just a few callouts each year, but in 2013, volunteers spent almost 16,000 man hours on callouts, showing how far things have come."
Ian went on to say "These days, apart from rescuing climbers, walkers and outdoor enthusiasts, teams can be found searching for vulnerable missing persons, helping stranded motorists or the ambulance services in snow conditions, dealing with flooding or attending any other civil emergencies where our skills can be of use".
Mr Creedon thanked the teams for their efforts over the years and remembered his first encounter with mountain rescue: "I was working in the Leicestershire force and had never come across them before, but they came down to spend several days in a row searching for a missing person and all it cost the force was a few portions of fish and chips".