Countryfile Presenter Lost on Roaches
When BBC's Countryfile program was planning to film in Staffordshire, they learnt that it was the Peak District Mountain Rescue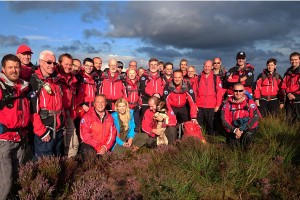 Organisation's Fiftieth Anniversary. Presenters Ellie Harrison and Jules Hudson invited Buxton Mountain Rescue Team to join them on The Roaches and explain how mountain rescue in the Peak District has evolved over the last fifty years.
Robin Knott of Derbys M.R.T. and Bob Rogerson, who was a competitor in the 1964 Four Inns Walk, were on hand to explain what happened on that fatal day fifty years ago.  This incident that was to lead to the formation of The Peak District Mountain Rescue Organisation and Buxton Mountain Rescue Team.
Attention then turned to the development of rescue equipment and team member Roger Bennett demonstrated to Ellie the old stretchers used in the sixties and their new modern equivalent.  Carney Turner explained how the team now deals with a moorland search and how mapping and information technology now plays a significant part in tracking the progress of an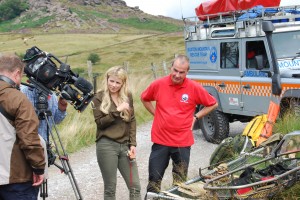 incident.
It was in the late afternoon when Countyfile Presenter, Jules Hudson, was reported to have become lost somewhere on the Back Forest Ridge after visiting Lud's Church.  The rescue team, with presenter Ellie, swiftly moved location to Roach End and after a briefing from Team Leader, Neil Carruthers, commenced a search of the moor.
Did the team find Jules?
You'll have to watch B.B.C. Countryfile on Sunday 31st August to find out!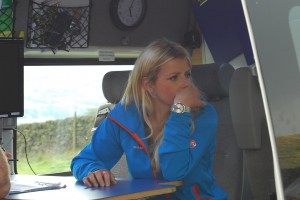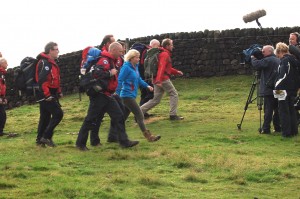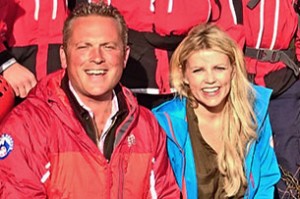 Photos Copyright Buxton MRT.:  From the top  – team in the evening sunshine.    Ellie learning about old equipment.    Bob Rogerson, a scout from the 1966 Four Inns Walk.    Anxious moments for Ellie when Jules is reported missing.    Jules Hudson and Ellie Harrison, Countryfile presenters.     The team setting of in the hunt for Jules.