Coast to Coast success
Last weekend nine year old James Martin walked into Robin Hood's Bay having completed the 192 miles of Wainwright's famous route, the Coast to Coast.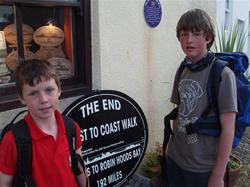 James, with big brother Josh (13 years) and mum, Michelle, endured some atrocious weather in their fifteen day expedition from St Bees Head, through the Lake District and over the North Yorkshire Moors to arrive in Robin Hood's Bay.   The walk was in memory of the boys' Nana Nana which inspired them to raise money for the British Heart Foundation but James also wanted to support Mountain Rescue after seeing a helicopter on Ben Nevis in Scotland. 
To read the full expedition log of their exploits including one or two memorable moments go to http://www.justgiving.com/jamesmartin09
Together they have raised over £200 for the BHF and over £300 for Buxton Mountain Rescue Team.   We send a very big THANK YOU to James and his family for their magnificent efforts and dedication to finishing the walk in such conditions.  The money James has raised will be used later in the year to buy a new hand-held radio for use on the hill.  Thank you again to all of the Martin family, and to everyone who supported their walk.