Chapel Parish Community Award
Buxton Mountain Rescue Team member, Peter Farrer, was the recipient of a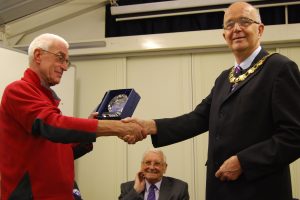 special award presented on Thursday evening by Councillor John Brook, Chairman of Chapel-en-le-Frith Parish Council.
Each year the Parish Council makes a Community Award to someone the council considers has made a special contribution to the local area.  When the council heard that Peter's 42 year commitment to mountain rescue had been recognised in the New Year's Honours list with an M.B.E., they wished to add to their own congratulations with the 2016 Community Award.
The presentation took place at the team's Dove Holes base on a regular training night with Councillor Peter Harrison, Chair of the Community Awards Committee, also in attendance together with Peter's wife, Margaret, and many of Peter's family members.  Chairman of The Parish Council spoke briefly outlining Peter's contribution to the rescue team and Peter responded with a short speech thanking the council for the award.
Peter still awaits his trip to Buckingham Palace to receive his M.B.E so this was a little less formal dry run.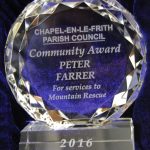 Photo credit:  BMRT  –   Councillor John Brook presents the award to Peter with Councillor Peter Harrison seated.