Cemex, Dove Holes Quarrymen step up to the Challenge!
A team of twelve nightshift workers from CEMEX Dove Holes Quarry has successfully completed the company's Pedometer Event raising £620 for the rescue team.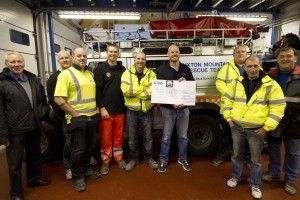 The event was part of a challenge the company set its employees to improve fitness and health.  In the part of the challenge entitled, "Best for Employees", a target was set for each member of the shift to walk over 10,000 steps a day over a four week period.   The team actually averaged 11,089 steps each day and Team Captain, Liam Perkins was delighted with their combined effort.  He said, "It is estimated that people walk approximately 3 to 5,000 steps a day so to average over 11,000 is truly remarkable".
Apart from the health side an additional second part of the challenge entitled, "Best for Community",  encouraged the team to raise money for a local charity.  The team decided before the training started that any sponsorship raised would go to Buxton Mountain rescue Team.
Team member, Joe Rees, speaking on behalf of the rescue team said, "This is a great donation following a lot of hard work and dedication from the quarry nightshift.  £620 is most welcome as the team is currently saving for a replacement Incident Control Vehicle and the cash will be wisely spent.  Many, many thanks to all who have worked so hard to make it possible".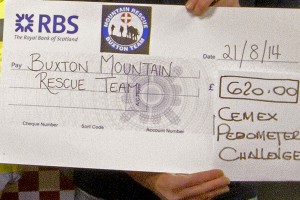 PHOTOS:   The CEMEX Quarrymen proudly present the results of their great effort at a rescue team training night.      Bottom,  A big cheque in more ways than one.