Building bridges with other organisations
Well, not actually a bridge but a boardwalk!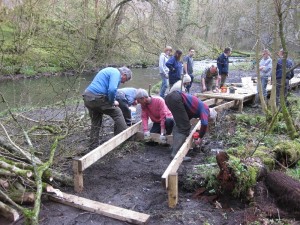 Acting on a request from Derbyshire Wildlife Trust several team members were keen to volunteer and join in with Kinder MRT members and other helpers to install a new section of broadwalk in Chee Dale.   The timber boardwalk will protect riverside plants from being trampled underfoot and helps walkers to keep their feet dry.    All the necessary materials had to be lowered from one of the old railway bridges on the Monsal Trail and then floated about a quarter of a mile down river.  
Some of the team's old ropes were used for the lowering to where some of the team's old soaks helped carry the materials to the construction site!
Picture courtesy of Ian Weatherley.  For more info visit www.derbyshirewildlifetrust.org.uk