Bryan Allison Remembered.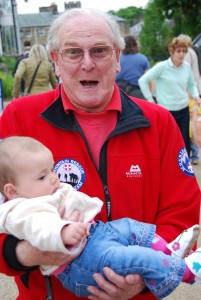 Team members today sadly attended the funeral of 81 year old veteran team member, Bryan Allison of Sutton near Macclesfield.
Bryan had been with the team since the early 1980s and was a very active operational member until well after his retirement age.  Bryan was also a voluntary Ranger for the Peak District National Park for many years and had a detailed knowledge of the Macclesfield Forest area.  A knowledge that was very useful to the rescue team on a number of occasions.
Bryan was originally from the Durham area but came south. firstly to Sheffield University, and later to Salford University where he became a Lecturer.  He finally became Director of the University's Centre of Problem Solving.
He was a born administrator and put his skills to good use in the recue team by serving as Training Officer,  Honorary Secretary for ten years and later as Vice-chairman.   Bryan had a great eye for detail and kept the charity administrative books in immaculate condition.
Bryan was a keen outdoor person all his life and always kept a flask of tea in his car just in case he got the opportunity to go for a walk.  He also worked hard for several other charities especially Crossroad Care for which he was a trustee and became Chairman.
He was forced to retire from active mountain rescue team service at the age of seventy when he was awarded Team Honorary Membership.  However, Bryan continued to be a great servant for the team acting as the team's Trustee to the P.D.M.R.O Benevolent Fund until his death.
Bryan was always a Gentleman; it was a pleasure and a privilege to have known him.  Many people owe a debt of gratitude to him but perhaps will never know it.  He will be missed.
The rescue team sends its most sincere condolences to Bryan's family.
Bryan Allison.   Died 24th November 2014 aged 81 years.