Beyond the call of duty
Whilst returning home from work in Ashbourne, one of our trainees, Shelley Smith, came across a road traffic accident at Fenny Bentley. The head on collision involved a family of three from the Stafford area.
On arriving at the scene all the occupants, mum, dad and daughter Claire were out of the car. The driver of the second vehicle was uninjured.
The father, was already being attended to by another first aider who had witnessed the crash. Following a brief discussion with him Shelley provided a sleeping bag and pillow to keep the father warm and comfortable on the road.
Mother and daughter Claire were met walking in the road obviously shaken following the incident. Both were reassured and asked to sit down on the pavement. Following an assessment, it was recognised that Claire had sustained a significant injury and was complaining of severe neck pain. In an attempt to alleviate the pain and prevent further injury Claire's head, neck and back were supported until the ambulance service arrived.
It was confirmed later that Claire had sustained a fractured spine in two places and Shelley's actions had undoubtedly prevented any paralysis, or worse. Claire is now recovering at home still wearing her neck brace some weeks later.
This incident highlights the importance of the training that Mountain Rescue personnel receive, and the benefits to the wider community as these skills are transferable.
Shelley said: "All our training is organised in-house, on a volunteer basis by professionals and highly experienced mountain rescuers, whether it be casualty care training provided by team doctors and other medical professionals, or rope work skills provided by outdoor instructors". She said her actions that day were as a direct result of the training received as a member of Buxton Mountain Rescue Team, which clearly can be a benefit to our wider community. "I just happened to be in the right place at the right time and I am very pleased of such a positive outcome for Claire".
Claire said "We were lucky that Shelley was passing at the time. She told me to sit down and supported my head, neck and back, keeping me calm. I was relieved she took control and was able to reassure me. I have beenvery lucky, I broke my vertebra in two places and have since been told that only 3% of people survive this injury and many are often paralysed. So Iam grateful to Shelley for making sure I didn't move and keeping my neck stable. I was in hospital for 10 days. After 10 weeks following the accident I am still wearing my neck brace and making slow but steady progress."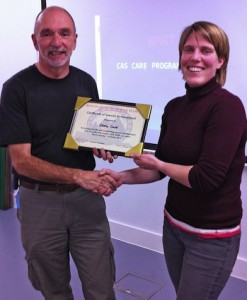 A team spokesperson said "Shelley was presented with a team "Certificate of Special Achievement" in recognition of the brilliant job she did that day."
Photo: Geoff Sumner, BMRT First Aid Manager, presents a "Certificate of Special Achievement" to Shelley Smith at a team training session recently.