Bernard meets Welly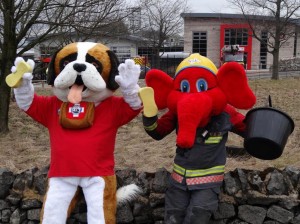 A charity car wash held last Sunday was a huge success and the team sends a great big "Thank You" to all who supported it.
The event was organised by Derbyshire Fire & Rescue's Buxton Blue Watch and included helpers from Buxton Mountain Rescue Team, Derbyshire Cave Rescue Organisation and the local Barclay's Bank staff .
The event received some much valued promotion from the Buxton Advertiser and High Peak Radio, which persuaded 115 motorists to turn up for a soapy sponge down.  £764 was raised on the day with promised match funding from Barclays Bank which will make a worthwhile and significant total.
The proceeds will be split equally between the charities of Buxton MRT, Derbyshire Cave Rescue and Derbyshire Fire & Rescue Benevolent Fund.