A new Way-sign for the Peak District
The Peak District Boundary Walk is a new long distance walk which completely encircles the national park.  The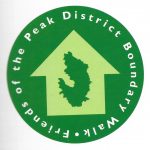 complete walk is 190 miles long but is conveniently split into twenty stages encouraging people to complete it all in one or on daily visits over a longer period.
The Peak District National Park is 555 square miles ( 1,438 sq km ) covering parts of four counties and metropolitan areas of Sheffield and Greater Manchester.  It was opened in 1951 but this is the first time a walk around its complete boundary has been officially designated.  The Boundary Walk is accompanied by a new guide book complete with path descriptions and local information. (£10)
Buxton Mountain Rescue Team was proud to receive an invitation to the grand public opening on Saturday 17th June in Buxton Market Place.  A notable list of dignitaries attended the event on behalf of their respective boroughs and councils including Buxton's Mayor, Councillor Matt Stone.  There were speeches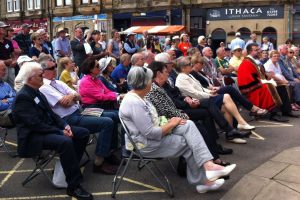 from Andy Tickle, Director of Friends of the Peak District,  Sarah Fowler, Chief Executive of P.D.N.P.A. and Emma Bridgewater, President of the Campaign to Protect Rural England.
The sun shone all day on the crowd that gathered to view the various stands and displays and team members were on hand to explain the work of mountain rescue.
So look out for the new way-guide signs that are now surrounding the park.
Photo credit:  Dignitaries and guests gathered on Buxton Market Place, the official start and finish of the new walk.