Team gets invited to new heights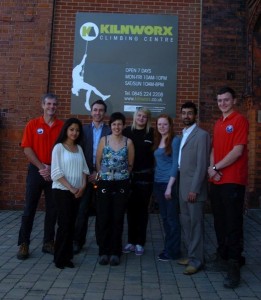 Representatives of Buxton Mountain Rescue Team attended the official opening of the Kilnworx , a new regional indoor climbing and adventure centre in Burslem, Stoke-on-Trent.
Buxton Team are pleased to be able to be associated with the Kilnworx facility as it is a local community initiative targeting young people, and will operate as a social enterprise. It has received European funding in addition to private investment to assist regeneration in the area. The profits from the wall will go back into the community so that it can, in due course, expand its facilities to include indoor archery, sports therapy, yoga and meeting rooms inside the same venue. It is anticipated that this will appeal to, and benefit, a wider community.
The climbing centre itself offers 75+ routes with top roped, lead and sports climbing options. It is suitable for beginners or advanced climbers wanting to improve their grade or skills. Team member, Tom, said: 'it was really quite impressive for such a small establishment. My attention was caught by mention of an ambitious charity event for a group of 60 or so scouts to climb the equivalent height of Everest on one of the walls. That would be a full-on challenge'.
Team member, Rick, admitted 'we couldn't resist the opportunity to test out their own climbing skills on the new wall – hopefully, the first of many happy visits'. Please see local media for more about the opening of the climbing centre, including photographs.
Image: Team members (in red) with Kilnworx staff on opening night