75 Years of Experience Recognised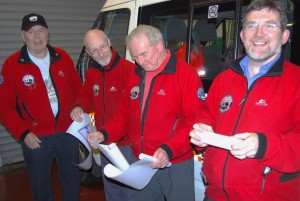 At a short informal presentation at the team base on Monday 10th November, three members received 25 Years of Service certificates from the Team Chairperson, Ian Hurst.
All three members have long records of operational service but have also contributed to the success of the team in many other roles.
Richard Doran (centre left) is still an Operational Member but now also Honorary Secretary to the team Trustees.
Bryan Allison (centre right) retired from operational duties just a few years ago but he still carries on in a support role ensuring that all the team's search equipment and documentation is in order and ready for call-outs.  (His work was to be put to the test within two hours of the presentation when the team was called out for an all-night search of Milldale).
Neil Carruthers (far right) is Operational Team Leader and was recently appointed as a Regional Incident Controller.
All three members received their certificates, awarded by the Peak District Mountain Rescue Organisation, from Buxton team Chairperson, Regional Controller and PDMRO Trustee, Ian Hurst (far left).