Team's new transit is the peak of perfection
The versatility of Ford's All wheel drive transit minibus is set to make life easier for the volunteers of Buxton Mountain Rescue Team – benefitting the many lost and injured people they assist every year in the Peak District.
The team's new vehicle, handed over recently by supplying dealer, GK Group Chesterfield, will enable rescuers to get closer to where they are required, even in the depths of winter.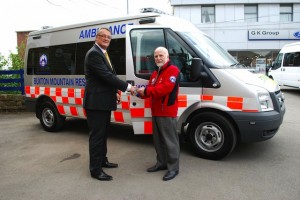 "A typical mountain search or rescue can involve quite a number of team members and an enormous amount of kit," said deputy team leader, Malcolm Needham. "Our old transit vehicle was a lifeline, but this new one is all wheel drive and that will be a huge help to us in bad weather, such as that experienced in the Peak District last winter."
Buxton Mountain Rescue Team's resources were called out 116 times last year, mostly to bring assistance to walkers who had either slipped and twisted or broken an ankle, to locate missing walkers, or to tend to injured mountain-bikers or hang-gliders, usually in areas with difficult access.
The team is funded entirely from donations and, says Malcolm, "it took a lot of tin-rattling to raise the money to buy the new minibus… We have been fund-raising like mad, even though Ford and GK Group have given us an excellent deal." The transit minibus began life as a 15-seater with a 140 PS 2.4 TDCi engine. Conversion work included: removal of a row of seats to facilitate the stowage of equipment, and to create space for a stretcher with a person on it; fitting of blue lights and sirens; adjustments to accomodate radio equipment and other emergency-service gear.
Shaun Wood, GK Group's commercial sales manager, said: "It has been a delight to supply such an out-of-the-ordinary vehicle to the team. The minibus looks great finished in silver. With all the equipment it carries, it will be a reassuring presence in the Peak District for many years to come. It just goes to show that Ford can deliver a vehicle to pretty much any specification that a customer might require."
The Buxton transit will become a familiar sight at shows and events in the area throughout the summer. Indeed, its first outing will be the High Peak Emergency Services Display Day at the Pavilion Gardens, Buxton on the 12 June, where team members will be displaying our vehicles, equipment and rope rescue skills, as well as fund raising to help find the team's annual budget of £30,000. If you're around, why not come and admire it for yourself?