Kinder Scout.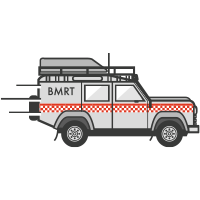 Call out for year:

64

Date:

2/09/20

Time:

3:53 pm

Grid ref:

SK 10700 86800

Type of incident:

Walker

Search Overdue(2)

Team members involved:

22

Time taken:

4 hours and 41 minutes

Total man hours:

104 hours
Incident report
The team was called by Derbyshire Constabulary to carry out a search on the Kinder plateau for a missing pair of walkers. An initial grid reference was obtained using a system which 'pinged' the mobile phone of the lost walker.
Three sections of team members were dispatched to this location from different paths from the valley below. Unfortunately, the missing walkers were not in the immediate vicinity of this point, and on the instruction of the search manager, the search area was expanded. This took in the areas around Grindslow Knoll and the top of Grindsbrook Clough, but once again the missing walkers could not be located.
At this point, with the weather deteriorating, and the first signs of dusk appearing, it was felt the Kinder Search Plan should be activated calling on our colleagues from Edale Mountain Rescue Team and Kinder Mountain Rescue Team, to assist with the search, along with three dogs from Mountain Rescue Search Dogs England.
Sections from Buxton Mountain Rescue were then directed to expand the search area to include Jacob's Ladder and Crowden Brook, while others waited at the top of Grindsbrook for further instructions. At this point reports came through of a brief telephone conversation with the missing walkers, which enabled a section of the team to move quickly to where we thought they might be, in an effort to locate them before before dark, which would make the search more difficult.
One of the walkers, was heard blowing an emergency whistle, and two of the Buxton sections were able to home in on the signal. The walkers were discovered sheltering, cold and wet, on the hillside between Crowden Clough and Grindslow Knoll. After being warmed up with some dry clothing and a snack of high energy food, both were able to be walked off the hill, under their own steam, and escorted down to team vehicles at the road head.
As ever we are grateful for the support of other hill-goers, who on this occasion were able to pass on information helping with our search, and hope the two walkers are able to continue their holiday after today's adventure.Peak District National Park