Crowden Clough, west of Edale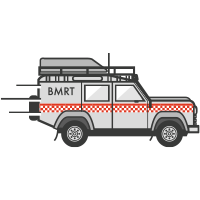 Call out for year:

14

Date:

24/03/21

Time:

6:38 pm

Grid ref:

SK 12424 85318

Type of incident:

Walker

Search benighted(2)

Team members involved:

19

Time taken:

2 hours 55 minutes

Total man hours:

55 hours
Incident report
The Team was called to assist two walkers who had set out from Edale car park to climb up Grindsbrook Clough, with the intention of traversing the southern edge path and returning via Jacob's Ladder. The route took them longer than first thought and darkness fell before they could complete the journey. Uncertain of their location, and without torches they wisely decided to dial 999 and ask for the assistance of mountain rescue.
Buxton Mountain Rescue Team were called out by the Duty Controller and team vehicles were soon on their way to rendezvous at Edale car park. The walkers were contacted to help confirm their location, and it was possible to 'ping' their phone to establish an Ordnance Survey grid reference. Two sections were deployed onto the hill with the first walking up Crowden Brook, and the second ascending Crowden Clough ridge to the west.
Approaching the walker's last known location from different directions increased the chances of finding them quickly and indeed this turned out to be the case. The first section found them safe and well, and after assessing their condition, decided they could walk off the hill with team members accompanying them to ensure their well-being.
A great outcome where the walkers realised they were in trouble, called for help early and then stayed where they were until team members arrived. After further assessment of their physical condition, they were able to drive home having gained valuable experience for future walks.
We are grateful for the support given to the lost walkers by two fell runners who stopped their run to provide reassurance until the first MR team members arrived.
Vehicles were then returned to base for Covid-19 cleaning and preparation for the next callout.