Kinder Scout x 2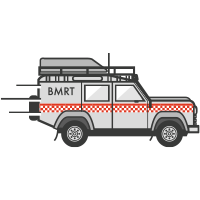 Call out for year:

46

Date:

8/07/15

Time:

4:45 pm

Grid ref:

SK 092 882

Type of incident:

Walker

Search Overdue(8)

Team members involved:

19

Time taken:

5

Total man hours:

55
Incident report
Following recent heavy rain the tops of Kinder Scout had become a squelchy quagmire setting a serious challenge for anyone attempting to cross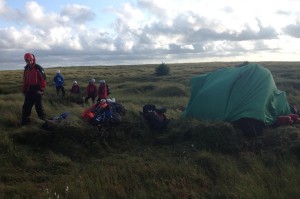 the plateau.  An afternoon call to assist in locating a group of London schoolchildren on a Duke of Edinburgh's Award expedition turned from a normal sweep of the moors into something far more serious.
The original call stated four young people somewhere on the moor, cold, wet and unable to continue.  Kinder MRT was first to be alerted and following difficulties contacting the group escalated the incident to call in Buxton MRT, a search dog unit and a Search and Rescue Helicopter.
Kinder team and a Search Dog deployed from Edale Cross whilst Buxton deployed from Crowden Brook.  As the Kinder section was approached the target area on Crowden Head two of its members fell into deep water filled gullies and so became casualties themselves.   When the incident site was identified the children and leaders were considered to need a prompt evacuation.  The individual casualties were prioritised and then flown out to be received by a Sheffield hospital. The Bristow's SAR Helicopter then made a return trip to collect the party leaders and rescue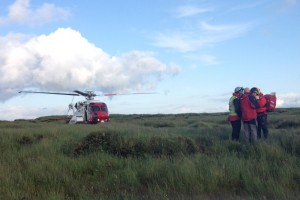 personnel needing assistance.
It was at this time when a second report was received of another Duke of Edinburgh's Award party being overdue at their camp site.  Those rescue members already committed to the moor then started a fresh search and Edale MRT was called to assist by checking the tracks off the plateau near to the intended camp.  Other rescue vehicles patrolled the Snake road and it was one of these which located the group, safe and well, near to Snake Inn.
Photo credit:  BMRT.   Blue sky gives a false impression of calm weather on a peat moor sodden with heavy rain making waking in a straight line for more than a few yards impossible.   Top:  casualties being assessed in a tent before the arrival of the rescue helicopter.