Zak, top dog, makes top grade
Nick Smith, a member of Buxton Mountain Rescue Team, with his trusty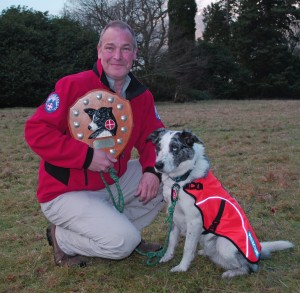 search dog Zak, has made the coveted grade of "Operational Search Dog" with flying colours in a recent assessment. Their outstanding performance also won them a special trophy not awarded to any other dog unit since 2001.
In weather conditions that had most people staying in their homes, the Search and Rescue Dog Association of England (SARDA), held its annual assessment last weekend in the Lake District. With conditions changing from sub-zero temperatures and deep snow, to torrential rain and gale force winds, the handlers and dogs were put through their paces. Each handler and dog team had to demonstrate, to the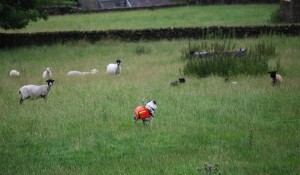 satisfaction of assessors from around the UK, that they could search and locate people lost on the mountains in a number of areas over a three day period.
Going for assessment this year were Nick Smith and his dog Zak, a three year old blue merle collie. Prior to this, the pair had already been scrutinised over a period of time for their search abilities and attitude. Assessment involves the dog teams being given an area on the mountain to search, within which there are an unknown number of mock casualties.  Handler and dog have to demonstrate that they can clear the area by locating all the hidden people. The assessment is repeated in a number of other areas over three days.
Conditions were quite difficult at times, but Nick and Zak performed so well that not only did they pass but they were awarded the Novice Team Shield. This award is not automatically given each year; it's only awarded to a Handler who is grading with their first Search Dog, and only when that Search Dog Team perform consistently to the highest standard over the whole assessment. The last time it was awarded was in 2001.
Nick was quick to say, "This is thanks to the support I have received from my own team, the other dog-handlers in S.A.R.D.A. and the fantastic bunch of people who are willing to give up their time to lie on the moors in the wet and cold so that we can train."
Mountain rescue dogs are trained to work on air-scent so they don't need items of clothing from the missing person in order to trail them. The dogs are worked across the wind in each search area and will respond when they find someone's scent.  The dog will go to the found person and then return to the handler and bark. This enables the handler to search large areas of land very quickly; one search dog can cover an area which otherwise may take 50 people to search.
Each handler is a volunteer, and has to be an established member of a Mountain Rescue team. A spokesman for SARDA stated, "We will only teach them how to train their dog, the handlers must already have developed their rescue skills within their team."
It takes about two years to train a handler and dog to work as a team for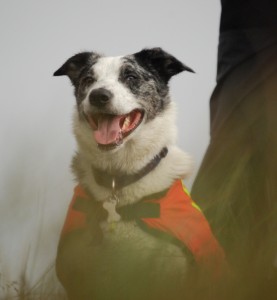 search and rescue. The handler chooses and buys his own dog, usually as a puppy to enable a strong bond to develop between them. Border Collies are the standard choice because they have been bred to work all day in hill areas, but Labradors and Springer Spaniels are also used.
In the Peak District SARDA handlers get great support from the farming community and organisations like the Peak District National Park and the National Trust for which it is very grateful. Without regular access to large areas of moor they wouldn't be able to train.
Training is a big commitment; at least twice a week, and then monthly national training courses and events. These are held around the popular walking areas of England and Wales, from Dartmoor to Northumberland, from the Brecon Beacons to the Lake District.
The SARDA Dog Teams attached to Buxton Mountain Rescue Team were kept busy attending twenty-two incidents in 2009.  Not only are they called to search on the hills for missing walkers, but they provide valuable assistance to the Police, searching for missing vulnerable adults and children.
Nick and Zak join two existing Search Dog units in Buxton Mountain Rescue Team: Malcolm Bowyer with Search Dog Cap, and Dave Mason with Search Dog Megan.
Photos. Top: Nick and Zak proudly display their trophy. Middle: Zak being "stock tested" to reassure land-owners that search dogs will never worry sheep.   Bottom: Zak, a blue merle collie, takes a breather in a search exercise.