You raised it – we spent it !
Thanks to the many generous contributions from local clubs, businesses and individuals, the rescue team has now been able to purchase a totally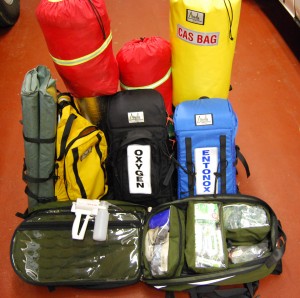 new set of casualty care equipment which will be available for use by the end of this month.  A total of nearly £5,000 has been spent on replacements and additional equipment to enable the team to treat and monitor the condition of patients whilst in its care.
Four specialist rucksacks headed the shopping list which are at the heart of every incident response.  Known within the team as bags 1 – 4 they are part of a response protocol used by both Buxton and Edale rescue teams so that members, regardless of which team they belong to, know exactly what to expect each bag to contain.   
Bag 1 is the main team First Aid kit packed full of life saving tackle including the obvious dressing and bandages but also includes spinal collars, artificial airways, a suction pump for clearing an airway and a nebuliser for assisting with asthma cases.
Bag 2 contains two ulta lightweight bottles of oxygen with all the necessary masks and pipes and is used on nearly every casualty.  Bag 3 holds two bottles of Entonox and includes an expensive demand valve to regulate the administration of the analgesic gas.  Bag 4 carries all the other casualty care equipment needed on site including a variety of splints, a shelter tent and a lightweight casuatly bag to keep the patient comfortable.  All four rucksacks are specially made for portability with easy opening access systems to give fast availability of their contents. 
Next on the shopping list were three Pulseoximeters used to monitor the oxygen saturation in the casualty's blood and which gives a fast indication of whether treatment is working corretly.  The three units, the most expensive items on the list, are very lightweight and extremely robust, ideal for use in the outdoors and will replace the team's two older and out of date models.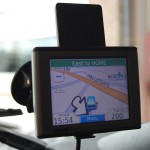 Two new lightweight casualty bags and a new heavyweight casualty bag have also been purchased along with new casualty shelter tents to protect the patient from the weather.
Two vehicle satellite navigation units were the last acquirements and have been fitted to the response vehicles ready for those occasions when the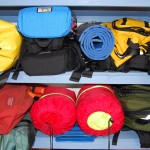 team is called outside its normal working area and local knowledge can not always be relied upon.  Sourcing units which can be programmed with Ordnance Survey grid references as well as post codes was a difficulty but they were eventually found on the internet.
All this equipment will soon be on board the vehicles and ready for deployment or stored ready to immediately replenish the vehicles returning from call-out.  The team wants to say a very big thank-you to all those who have made it possible.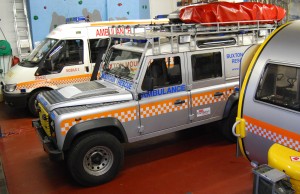 The team has been touched by the response of the local community to this appeal with many organisations working hard to raise money on its behalf.   It was Buxton Ladies' Circle with a donation of £1,500 that finally closed the appeal which ironically started in 2008 with a donation from Whaley Bridge Ladies' Circle.  Thank -you to all.
Any appeal money still to be collected will be added to the small sum not yet spent and will be used kick-start the next project; the purchase of a hand-held radio for every team member.  Watch this space!
Photos:  top, New bags for old.   No excuse for getting lost.   Everything at hand     bottom,  Everything loaded and ready to roll.