Well, Well, Well, Wormhill
Buxton Mountain Rescue Team says a big thank-you to the Wormhill Well Dressing and Festival Sports Committee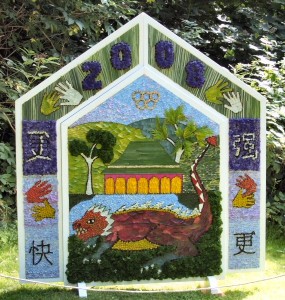 for its generous donation of £50 towards the team's funds.  Wormhill is a tiny village on the outskirts of Buxton which, like so many other villages in Derbyshire, continues the age old tradition of Wells' Dressing.
Thousands of tiny flower petals are pressed into beds of clay to make up wonderful pictures depicting local scenes or events.  The finished tableaux are then erected over the ancient wells which have supplied drinking water to the villages  for hundreds of years.  The skill of dressing the wells is handed down between families in the villages and it takes hundreds of hours painstaking work to complete each scene  just in time for the start of the festival week.   Visitors travel many miles to look at the wells and marvel at the skill and dedication needed for each scene.  Most of the villages encourage donations which are then passed on to local charities.
The Wormhill Wells were decorated between 23rd and 31st August 2008 and Buxton Mountain Rescue Team has been fortunate enough to be selected as one of the charities to benefit.  The team would like to say thank you to the dedicated workers in Wormhill for producing the wonderful well dressings and to all the visitors who donated money.  Local support of this nature is very important to the team and is particularly encouraging for team members to think that their work is recognised by the local community.
For more information on Derbyshire well dressing visit: www.welldressing.com.