Waitrose shoppers vote mountain rescue
"Community Matters" is a fantastic charity support scheme operated by Waitrose, the supermarket chain whose local store is in Buxton's Spring Gardens Centre.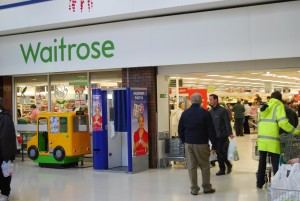 Each month £1,000 is divided between three local good causes; the proportion that each charity receives is determined by the votes cast by the shoppers.   Tess Shaw, Branch Manager of Waitrose, Buxton said "Community Matters is a great initiative that is making a real difference to a lot of people in the area. We are passionate about our community and as a team we are proud to be delivering such a worthwhile scheme."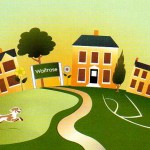 Throughout December 2008 Buxton Waitrose shoppers had the opportunity to cast their votes and Buxton Mountain Rescue Team came out a clear leader polling 60% of the ballot.   At a brief presentation on Monday 23 February Store Duty Manager and local co-ordinator of the scheme, Dan Hopkinson, presented Roger Bennett, Treasurer of Buxton Mountain Rescue Team, with a cheque for £601.  Dan said "The rescue team attracted more votes than any other charity so far participating in Community Matters.  Two other charities will share the remaining £400."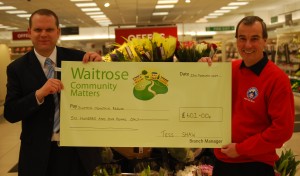 Roger, speaking for the rescue team said, "This is a fantastic donation that will be wisely spent on upgrading our casualty care equipment.  Last year was the team's busiest ever year with 83 call-outs  and some of our tackle is beginning to show its age.  Buxton rescue team is totally dependent on charitable donations and this is the sort of support that keeps us going.  But its not just the cash, it's knowing that the people of Buxton voted for us which is really rewarding.  The team extends its sincere thanks to all those who voted and of course to Waitrose who's generosity made the donation possible."  To see exactly how the money will be spent follow the team's web-site.
The Waitrose Community Matters scheme continues and another three charities are currently competing for votes.
Photos:   Top: Waitrose, Buxton.    Bottom: Duty Store Manager, Dan Hopkinson presents Roger Bennett with a cheque for £601.