Training for the worst
08.30 hours.  It was a dull, cold November morning when the Peak District Duty Incident Controller contacted the team with the even more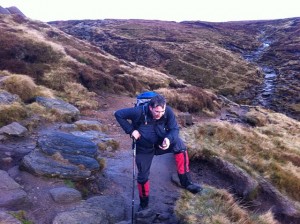 chilling message, "Male, mid-fifties,  suspected heart attack at Crowden Towers." 
08.32 hours.  Team Call-out officer rudely awakened from a Sunday lie-in.  "Full team call-out now, RV at Tipps car park.  I want both vehicles and try and get me a Doctor asap. This might not have a happy ending."   The tone of the team leader's voice said a thousand words in one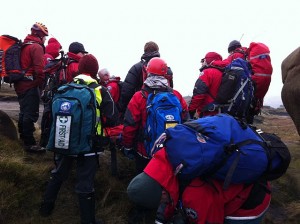 short sentence. 
08.33 hours.  Forty radio-pagers stutter out their shrill alert across Derbyshire and East Cheshire. Twenty-five members acknowledge the call and quickly change into hill gear. Adrenalin surges but "red mist" must be controlled and safe driving is crucial. Be professional, small p, best have one of those before I set off as well. 
08.41 hours.  First three members arrive at the team's base and start up the vehicles. Soon joined by another two locals, within three minutes the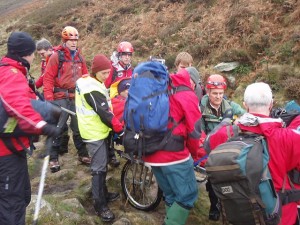 equipment is on its way.
08.52 hours.   Team Leader arrives at Tipps car park. Contacts Controller for update.  "Intermittent mobile contact with distraught wife who is with the casualty. Thinks they are in Crowden Brook but not sure. Low cloud until mid-day so no helicopters – you are on your own."
08.54 hours.  Team Land Rover arrives with two fit members on board.  "Quick as you can lads. Take a radio, defibrillator and oxygen and get up Crowden Brook. We need to know the exact location of the cas before we commit everyone up the wrong valley."
09.01 hours.  Another three members ready for the climb. First-aid bag, shelter tent and cosy casualty bag, all bulky packs but they'll be needed.
09.05 hours.  Rescue Control established and a radio link set up at Mam Nick. 
09.08 hours.  Four more members ready to share the weight of a rescue stretcher and the bulky packs of evacuation mattress and extra oxygen.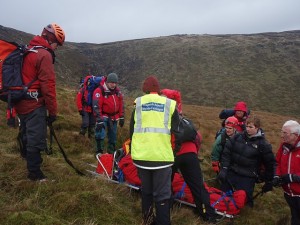 09.15 hours.   Team Doctor arrives with her own special little bag and joins another six members ready for the off. 
09.29 hours.   More team members dispatched up Crowden Brook.  Still no word from the first search group. Has all the equipment gone up in the right direction?  Team Leader starts to bite his finger nails whilst pretending to be cool about the whole affair.
09.36 hours.   Radio message.  "At scene.  Just under Crowden Towers.  Cas assessment now –  grid ref and update soon."    Phew.  "Of course I knew that's where they'd be."  says the Leader going for another P behind a bush.
09.49 hours.  Radio message.  "Casualty stable and responding to pain relief.  I want to move this chap asap.  Will need an ambulance at Upper Booth in approx 45 mins."
10.05 hours.   Casualty loaded on stretcher in a slight sitting position.  Doctor on scene.  Evacuation commencing.  "Any spare people? He's a big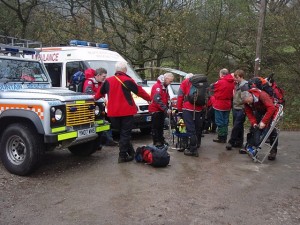 bloke!"
10.45 hours.   Rescue party with casualty arrive at Upper Booth ready for transfer to an ambulance. Casualty is helped off the stretcher.  "Thanks lads but I think I'd rather walk next time."  "Dead right mate, and its time you lost some weight." replies a team member.  "Anyway, it's my turn next month!"      
Another team training event comes to an end. Team packs up ready for the real one.
Photos courtesy of our last mock casualty.