Top national award for BMRT Chairman
Ian Hurst, Chairman of Buxton Mountain Rescue Team, is to be awarded a "Certificate of Distinguished Service", the top honour available from the national body, Mountain Rescue England and Wales.
David Allan FRCS, Chairman of M. R. England & Wales, visited the Peak District on Wednesday night and personally delivered the news at the Annual General Meeting of the Peak District Mountain Rescue Organisation.
The award of a Certificate of Distinguished Service is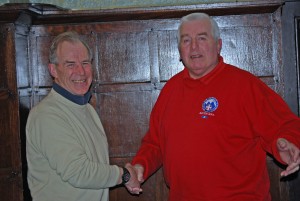 a rare and prestigious event bestowed at the behest of The President of M. R. England & Wales.  There can be only one recipient nationally each year and in many years no award is presented at all.  Ian will now join a very short list of previous recipients all of whom have worked tirelessly to promote the cause of mountain rescue locally, regionally and nationally and includes names such as Hamish Macinnes OBE MBE and more locally the late Dr Peter Andrew MBE.  
The citation on the certificate will read, "For over forty-five years continuous years dedication to the development and improvement of a mountain rescue service in the Peak District Region and England & Wales nationally, by selfless commitment to practical leadership on the hills and authoritative direction in all organisational matters." 
The award was prompted by Ian's colleagues in Buxton team but was unanimously supported by every team in the Peak District region .  The proposal was then circulated nationally and seconded by Dr Tony Jones MBE from the North Wales region and, at a meeting held in January by National President Peter Bell, every region in the Country unanimously agreed to the award.
A shocked Ian Hurst said, "This was a total surprise.  I knew absolutely nothing about it but I am extremely honoured." 
A spokesman for Buxton team said, "We are all honoured by Ian's award which recognises countless years of work towards saving lives and helping those in distress in the Peak District hills.  Ian has been an operational incident controller for the Peak District since Adam was a lad and must have supervised many hundreds of rescue incidents.  Often unseen by those he helps there are more people owe him a debt of gratitude than will ever realise."
The formal presentation of the certificate will take place at the next national meeting of Mountain Rescue England & Wales in May.
Photo:  Ian Hurst (right) shakes hands with David Allan, Chairman of Mountain Rescue England & Wales.