The Great North, London Flora, and now New York!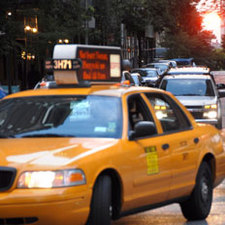 A lot of people have gone a long way to run long distances to raise money for the rescue team, but no one before has gone all the way to New York!
At 6am on Sunday 1st November (New York time) Steve Lee, from Hathersage, will set off from Staten Island along with some 40,000 other participants in the 40th Anniversary New YorK Marathon. Steve will become the first supporter to enter an overseas event to raise money for Buxton Mountain Rescue Team. The 2009 marathon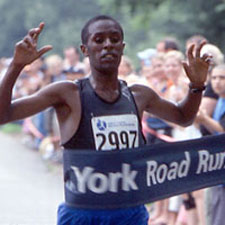 is going to be the biggest ever held, marking 40 years since the race was first run in 1970 with just 127 competitors. This year over 100,000 people applied for entry and Steve was amazed to be chosen at his first attempt. 
Steve used to be a member of Buxton Athletic Club but admits that he is not as fit as he was. His running career started some 25 years ago but it was the Wakefield Half Marathon which he entered some 20 years ago that really brought out his competitive nature.  Since then he has entered the Eyam Half Marathon, the Worksop Half Marathon, and the Nottingham Half Marathon along with many other local events including the Dovedale Dash.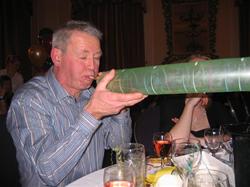 Steve's other great passion is chocolate and is proprietor of "Charlotte's Chocolates" in Buxton's Cavendish Arcade.   All his chocolates are hand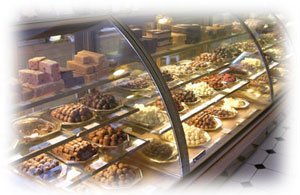 made on the premises and he offers a fantastic range from individual chocolates to celebration cakes and special desserts. 
With luck, Steve will be baking his own celebration cake in November but he promises not to sample to much of his wares before the event.
To support our first overseas marathon runner go to Steve's own JustGiving web page
Photo: Steve supposedly in training and increasing his lung-power.  Looks more like a yard of ale to me!